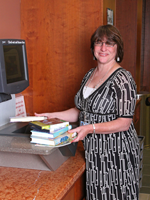 Medina Library has a century long history of serving the community. The original library was built on its current site with funds donated by Franklin Sylvester and opened in 1907. As the community grew, expansions were completed in 1958, 1976 and 2008. Pictured is the Manager of Medina Library, Christine Gramm.
210 South Broadway Street
Medina, OH 44256
Get Directions
Phone: 330-725-0588
Fax: 330-725-2053
Expanded hours beginning October 19
Monday, Wednesday   10:00 am – 5:00 pm
Tuesday, Thursday   12:00 pm – 8:00 pm
Friday, Saturday   10:00 am – 4:00 pm
Closed Sundays
The first hour of each day is encouraged for vulnerable populations.